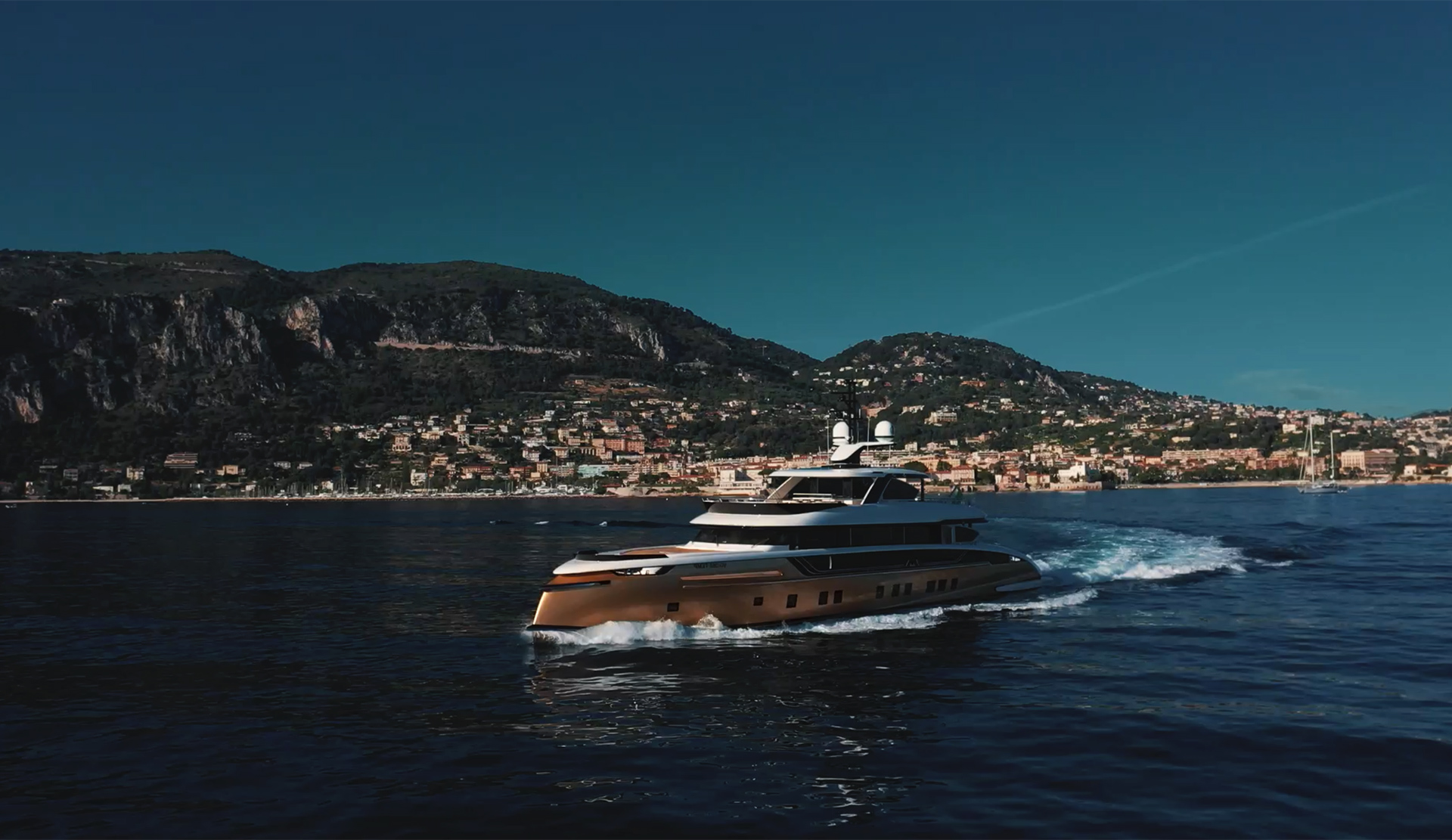 Best Naval Architecture
Semi-Displacement Motor Yachts
The no-compromise all-rounder
The GTT 135 is the perfect, all-aluminum, fast cruiser. Built on a 41 m (135') platform with a comfortable round bilge hull and a shallow draught of just 1.8 m (5' 9''), she is the ideal family superyacht for cruising the Mediterranean, Caribbean or Asian Pacific. Her transatlantic range of 5,000 nautical miles means the yacht can voyage between the Caribbean and the Med directly, making the most out of the two cruising seasons. With the largest sundeck in her class (120 m2 / 1,291 sq/ft) and five very spacious staterooms, she is the epitome of versatile luxury in a user-friendly and relatively compact package.
key Features
Performance
Fast displacement hull form

Devised by leading Dutch naval architects, the GTT 135 unique hull features a round-bilge shape for remarkably low resistance and low fuel consumption while still being capable of high speeds. The design decreases vertical accelerations of the hull, which translates into a far more comfortable motion when sailing. The bow shape with a vertical stem maximizes the waterline length, enhancing performance even more. To keep spray levels low, an integrated spray rail deflects water hitting the bow area. Built entirely from marine grade aluminium, the GTT 135 hull guarantees unparalleled comfort and safe operation for more than 25 years.

Robust full aluminium construction

Certified marine-grade 5083 aluminium and stronger 5383 Sealium, a lightweight alloy that weighs three times less than steel, is used for Dynamiq GTT 135 hull and superstructure. A lighter hull provides better performance, shallower draft, lower fuel consumption. Another benefit is that aluminium guarantees a stiff, robust and vibration-free vessel that is very comfortable and behaves well in a heavy swell or choppy seas. The strength-to-weight ratio of aluminium is equivalent to that of steel and there is much less risk of serious damage in case of a collision than with a fibreglass hull.

Hull Vane

The Hull Vane® is a patented fixed foil located under the stern of the yacht. Developed by renowned Dutch naval architects Van Oossanen it influences the stern wave pattern and creates hydrodynamic lift, which is partially oriented forward. This innovation leads to significant reduction of the hull's resistance, which in turn enables the installation of smaller engines, fuel savings and longer range. The Hull Vane® also improves stability under way and at anchor, while reducing both pitching and yawing motions.

Curved Stabilizer Fins

Vector Fins stabilizers dramatically reduce roll as well as undesired yaw and sway motions caused by active fins. Their vertical concave shape creates a net force direction, both in cruising and at-anchor modes, so the work is more up-down instead of side-to-side. By changing the net force angle, this also increases the leverage arm around the boat's rolling point, further increasing the physical forces that work on the boat to reduce roll. This provides more efficient stabilization per fin size, which means that drag and power consumption are less than with other fins offering comparable roll reduction.

Transatlantic range

The GTT 135 has an ocean-going range of 5,000 miles at 10 knots and is perfectly equipped for long-range cruises, which means owners have the opportunity to enjoy two seasons during the year (Med and Caribbean) and greater freedom navigating remote locations with no bunkering infrastructure. GTT 135 is equipped with high-capacity Miele marine fridges and freezers, cold garbage stores, separate laundry facilities and plenty of storage space. Generous fresh-water tanks and powerful water-makers allow guests to spend long periods of time sea in complete comfort.

Engine room cooling

The engine room cooling offers two main benefits: on the one hand it cools down the ER quicker on arrival in port or anchorage without having the blowers running full power for an hour; and on the other hand, it keeps the ER at a comfortable and steady temperature while at anchor to preserve electrical equipment. Overall, the benefit is reduced noise as there is no need to have the blowers running when the yacht is static, and the temperature cooling in the engine room makes it a more comfortable environment to work in. A long-term benefit is that it extends the longevity of all the equipment and especially the electronic parts.
Comfort
Bentley Home exclusive furniture collection

Feel the way you drive, with a new range of handmade furniture inspired by the techniques, materials and finishes that characterise Bentley's renowned car interiors. Browse through a selection of loose furnishings and accessories from cult brand Bentley Home and lamps from Tom Dixon and Flos. Marbles, fabrics, leathers and accessories can be customised by the client with Bentley Home designers to ensure individual selections. Hand-tufted carpets in pure silk, bamboo and finest New Zealand virgin wool are supplied by OT (Germany), a world leader in the manufacturing and laying of exclusive hand-made carpets.

Main saloon fireplace

A real fireplace becomes a centrepiece and adds a cosy touch, especially when cruising early or later in the season when the evenings can be a bit chilly. They are completely safe and fully certified and rely on low-heat producing fuels such as ethanol.

High-end audio by Bowers & Wilkins

Dynamiq has partnered with iconic British sound maker Bowers & Wilkins to deliver pristine sound to its discerning customers. All luxury spaces and each guest cabin will be carefully analysed and studied by experts to ensure the ideal positioning of the speaker systems to have the best possible sound expertise on board.

Wheelhouse by Klassen

Dynamiq and German VIP car outfitter Klassen carefully developed the "Wheelhouse by Klassen" option. The GTT 135 wheelhouse will be designed for yacht owners and captains who appreciate the quality and style of Klassen VIP shuttles with the same sporty trim and high end finished as you have in Klassen cars.

XIR glass

The GTT 135 features next-generation laminated XIR glass that allows maximum light transmission, while keeping solar heat gain at bay. Harmful UV rays are almost completely blocked, and heat transmission reduced by 60%. The result is an interior that offers the wide panoramas of large windows without the penalty of heat build-up. This means significantly reduced air-conditioning loads and therefore lower running costs. The glass manufacturer is Isoclima, an Italian high-tech company that also supplies glass for luxury automobiles such as Bentley, McLaren, Mercedes and BMW.
MAIN Dimensions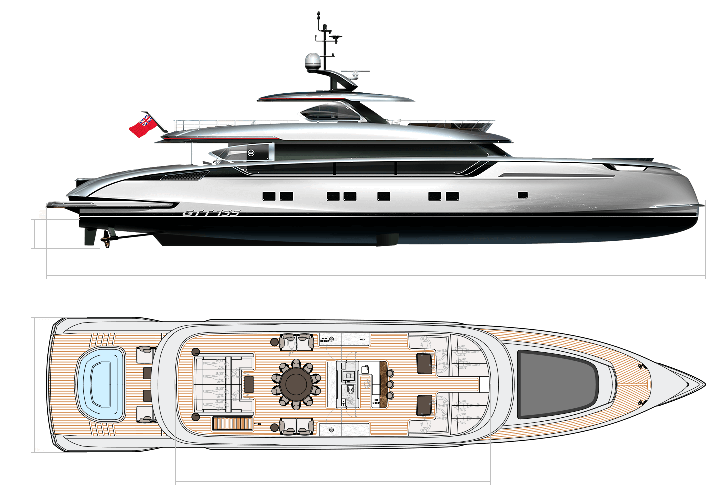 Length overall 41 m / 135'
Draft 1.8 m / 5'11''
Sun Deck length 17.7 m / 58'
Sun deck area 120 m2 / 1292 sq ft
Beam overall 8.2 m / 26'11"
Interior headroom (max)
Sun deck

2.2 meters / 7'3''

Main deck

2.2 meters / 7'3''

Lower deck

2.2 meters / 7'3''
Specification
Length overall

41 m / 135'

Beam overall

8.2 m / 26'11"

Draft

1.8 m / 5'11''

Gross tonnage

299 GT

Material

Full aluminium, 5083

Hull type

Round bilge, fast displacement

Main engines

2x MAN V12-1650, 1,213 kW

Generators

2x 70 kW, Kohler

Stabilisers

2x Stabilizer fins, Side Power

Max speed

21 knots

Range

5,000 nm @ 10 knots

Fuel

29,600 l / 7,820 US gallons

Fresh water

9,500 l / 2,245 US gallons

Grey & black water

6,800 l / 1,797 US gallons

Guests

10 (+2)

in

5

cabins

Crew

6 in 3 cabins

Tender

Williams 505 (5.03 m / 16' 6'')

Class

RINA commercial, REG compliant

Notations

RINA Comfort Class,
RINA Green Star (option)




Exterior Design

Dobroserdov Design

Interior Design

Giuseppina Arena / Dynamiq

Build time

28 months
Price excludes all options, taxes and charges