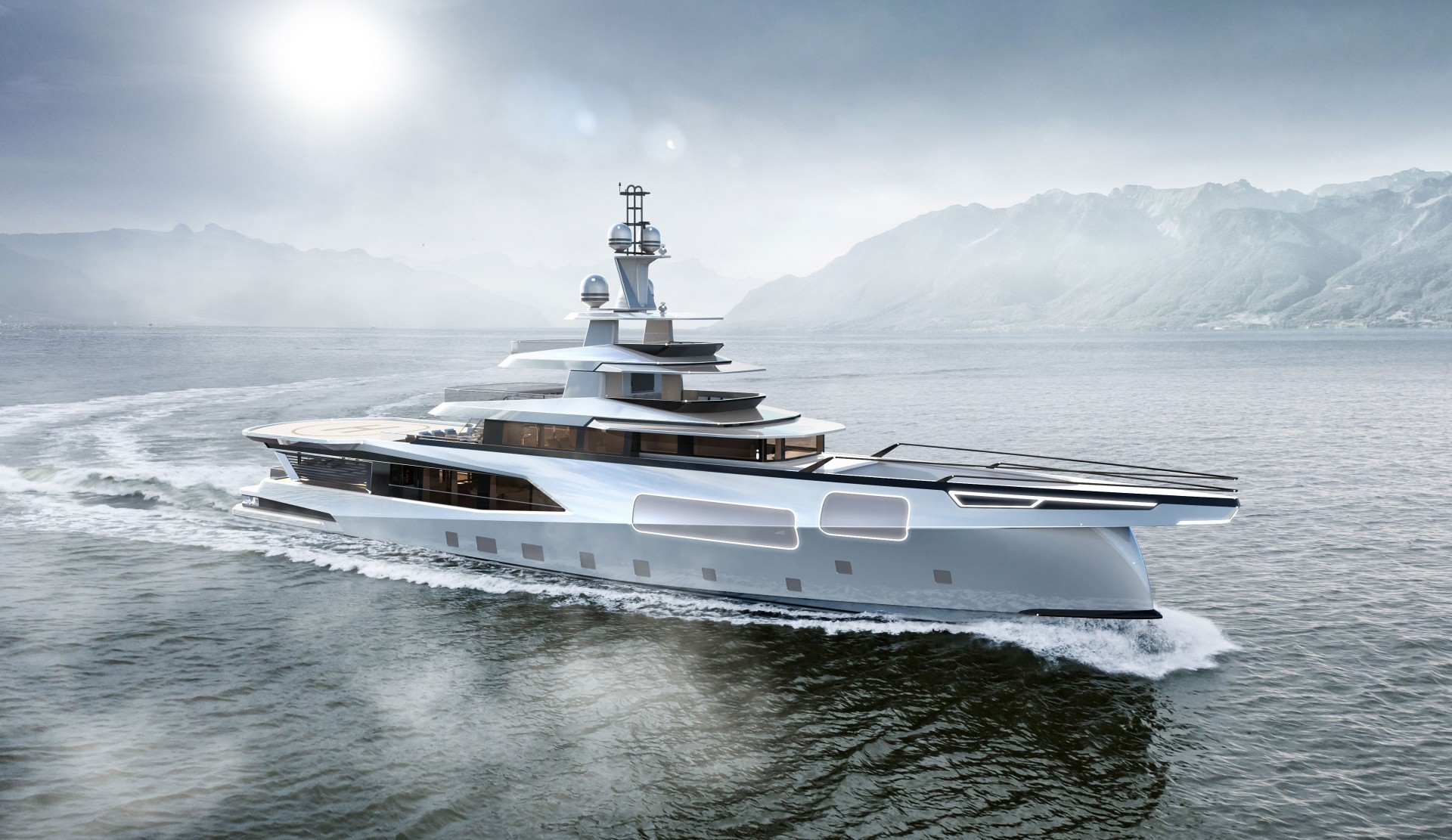 World traveller, nature's best friend
The Global 550 is a next-generation go-anywhere explorer that sails boldly into the most exclusive areas of the world. This yacht is about unrivalled efficiency and low impact operation. This is achieved with the lightweight, all-aluminium hull, which hardens in the cold, and sophisticated naval architecture that allows this yacht to reach 16 knots and maintain a range of 5,000 nm with just two 625 kW engines. The remarkable part about the engines, apart from their size, is their heavy duty rating, which allows for extremely long range passages. She also comes with advanced exhaust filters, massive freshwater storage and a sewage treatment system that fulfills the stringent requirements for navigating the Great Lakes, Alaska and MARPOL Special Areas, meaning that she can go without unnecessary bunkering.

As a true explorer, the layout features plenty of opportunities to take in all the sights, with observation lounge on the crow's nest at a height of 11 metres, complete with a steering station, and another one on the sundeck. The master stateroom on the main deck comes with a spacious personal office that doubles as another observation lounge. The Global 550 combines exploration with wellbeing and features spa with sauna and hammam in the transom. The yacht also boasts a fully commercially helipad on the main deck allowing to carry your own helicopter for further mobility and safety. Lastly, she comes with stylish, eco-minimalist interiors that integrate the untamed landscape into this one of a kind luxury explorer, making you feel truly at home in nature.
key Features
Performance
Fast displacement hull form

Devised by leading Dutch naval architects, the G550 unique hull features a round-bilge shape for remarkably low resistance and low fuel consumption while still being capable of high speeds. The design decreases vertical accelerations of the hull, which translates into a far more comfortable motion when sailing. The bow shape with a vertical stem maximizes the waterline length, enhancing performance even more. To keep spray levels low, an integrated spray rail deflects water hitting the bow area. Built entirely from marine grade aluminium, the G550 hull guarantees unparalleled comfort and safe operation for more than 25 years.

Robust full aluminium construction

Certified marine-grade 5083 aluminium and stronger 5383 Sealium, a lightweight alloy that weighs three times less than steel, is used for Dynamiq G550 hull and superstructure. A lighter hull provides better performance, shallower draft, lower fuel consumption. Another benefit is that aluminium guarantees a stiff, robust and vibration-free vessel that is very comfortable and behaves well in a heavy swell or choppy seas. The strength-to-weight ratio of aluminium is equivalent to that of steel and there is much less risk of serious damage in case of a collision than with a fibreglass hull.

Hull Vane

The Hull Vane® is a patented fixed foil located under the stern of the yacht. Developed by renowned Dutch naval architects Van Oossanen it influences the stern wave pattern and creates hydrodynamic lift, which is partially oriented forward. This innovation leads to significant reduction of the hull's resistance, which in turn enables the installation of smaller engines, fuel savings and longer range. The Hull Vane® also improves stability under way and at anchor, while reducing both pitching and yawing motions.

CMC Stabilizer Fins

CMC stabilizers dramatically reduce roll as well as undesired yaw and sway motions caused by active fins. Their vertical concave shape creates a net force direction, both in cruising and at-anchor modes, so the work is more up-down instead of side-to-side. By changing the net force angle, this also increases the leverage arm around the boat's rolling point, further increasing the physical forces that work on the boat to reduce roll. This provides more efficient stabilization per fin size, which means that drag and power consumption are less than with other fins offering comparable roll reduction.

Transatlantic range

The G550 has an ocean-going range of 5,000 miles at 10 knots and is perfectly equipped for long-range cruises, which means owners have the opportunity to enjoy two seasons during the year (Med and Caribbean) and greater freedom navigating remote locations with no bunkering infrastructure. G550 is equipped with high-capacity Miele marine fridges and freezers, cold garbage stores, separate laundry facilities and plenty of storage space. Generous fresh-water tanks and powerful water-makers allow guests to spend long periods of time sea in complete comfort.

Engine room cooling

The engine room cooling offers two main benefits: on the one hand it cools down the ER quicker on arrival in port or anchorage without having the blowers running full power for an hour; and on the other hand, it keeps the ER at a comfortable and steady temperature while at anchor to preserve electrical equipment. Overall, the benefit is reduced noise as there is no need to have the blowers running when the yacht is static, and the temperature cooling in the engine room makes it a more comfortable environment to work in. A long-term benefit is that it extends the longevity of all the equipment and especially the electronic parts.
MAIN Dimensions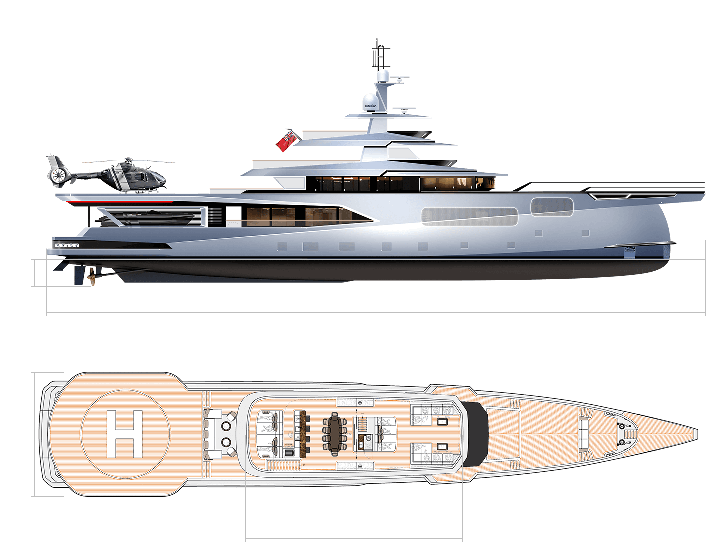 Length overall 55.7 m / 180'
Draft 2.2 m / 6'10"
Sun Deck length 18 m / 59'1''
Sun deck area 106 m2 / 1,141 sq ft
Interior headroom (max)
Crow nest

2.1 meters / 6'11'''

Sun deck

2.15 meters / 7'05''

Upper deck

2.15 meters / 7'05''

Main deck

2.20 meters / 7'21''

Lower deck

2.1 meters / 6'11''
Specification
Length overall

55.7 m / 180'

Beam max

9 m / 29'6"

Draft

2.2 m / 6'10"

Material

Full aluminium, 5083

Hull type

Round bilge, fast displacement

Tonnage

< 500 GT

Max speed

16 knots

Main engines

2x Volvo Penta D16-850, 625 kW
(IMO Tier III),
heavy duty rated

Range

5,000 nm @ 10 knots

Fuel

52,280 l / 11,500 US gallons

Fresh water

21,370 l / 4,700 US gallons

Black / Grey water

17,820 l / 3,919 US gallons

Generators

2x 125 kW, Kohler

Stabilisers

4x Stabilizer CMC Marine

Aft foil

Hull Vane

Guests

10 in 5 cabins

Crew

12 in 7 cabins

Tenders

8,6m tender, 8m limo tender

Helipad

Commercially-certified helipad,
D-value 12.7m, maximum take-off weight
3,000 kg (Eurocopter EC-130, EC-135; Bell 407)

Class

BV commercial, unrestricted range

Notations

BV Comfort Class, Green Passport

Naval Architecture

Vripack Yacht Design

Exterior Design

Dobroserdov Design

Interior Design

Zrobim Architects

Build time

30 months
Price excludes all options, taxes and charges