탐험이 그렇게 좋아 보인적은 없었다
Global 350은 270GT의 환상적인 내부 용적을 자랑하는 타협 없는 첨단 탐험선입니다. 소유자의 선실은 동급 최고로 전방 메인 데크에 2개의 고정 발코니가 있으며 하단 데크에는 4개의 편안한 선실이 있습니다. 8.5m(27' 10'')의 초광각 빔과 5개의 호화로운 캐빈에 10명을 수용할 수 있는 숙박 시설을 갖춘 G 350은 디자인, 성능 및 기술 면에서 관습을 깨고 있습니다.
실용적이고 빠른 요트는 최대 3,500해리까지 순항하여 세계에서 가장 아름답고 외딴곳을 방문할 수 있으며 온 가족에게 최고의 모험 경험을 제공합니다.
주요 특성
성능
둥근 빌지 빠른 변위 선체

네덜란드의 저명한 선박설계자가 그린 G 350의 독특한 선체는 둥근 빌지 모양으로 되어 있어 저항이 현저히 낮고 연료 소비가 적으면서도 고속 주행이 가능합니다. 이 디자인은 선체의 수직 가속도를 줄여 항해할 때 훨씬 더 편안한 움직임으로 해석됩니다. 수직 스템이 있는 아방가르드한 활 모양은 흘수선 길이를 최대화하여 성능을 더욱 향상시킵니다. 스프레이 수준을 낮게 유지하기 위해 통합 스프레이 레일이 선수 영역에 닿는 물을 편향시킵니다.

견고한 금속 구조

Special high tensile steel, which is lighter than carbon steel, together with certified marine-grade 5083 aluminium and even stronger 5383 Sealium are used to build the Dynamiq G 350 hull and superstructure. A lighter hull provides better performance, shallower draft and lower fuel consumption. Another benefit is that metal construction ensures a stiff, robust and vibration-free vessel that is very comfortable and seaworthy in a heavy swell or choppy conditions.
G 350 hull guarantees safe operation for more than 25 years.

Hull Vane

The Hull Vane® is a patented fixed foil located under the stern of the yacht. Developed by renowned Dutch naval architects Van Oossanen it influences the stern wave pattern and creates hydrodynamic lift, which is partially oriented forward. This innovation leads to significant reduction of the hull's resistance, which in turn enables the installation of smaller engines, fuel savings and longer range. The Hull Vane® also improves stability under way and at anchor, while reducing both pitching and yawing motions.

곡선형 안정기핀

Vector Fins stabilizers dramatically reduce roll as well as undesired yaw and sway motions caused by active fins. Their vertical concave shape creates a net force direction, both in cruising and at-anchor modes, so the work is more up-down instead of side-to-side. By changing the net force angle, this also increases the leverage arm around the boat's rolling point, further increasing the physical forces that work on the boat to reduce roll. This provides more efficient stabilization per fin size, which means that drag and power consumption are less than with other fins offering comparable roll reduction.

대서양 횡단 범위

The G350 has an ocean-going range of 3,500 miles at 10 knots and is perfectly equipped for long-range cruises, which means owners have the opportunity to enjoy two seasons during the year (Med and Caribbean) and greater freedom navigating remote locations with no bunkering infrastructure. G350 is equipped with high-capacity Miele marine fridges and freezers, cold garbage stores, separate laundry facilities and plenty of storage space. Generous fresh-water tanks and powerful water-makers allow guests to spend long periods of time sea in complete comfort.

엔진룸 냉각

The engine room cooling offers two main benefits: on the one hand it cools down the ER quicker on arrival in port or anchorage without having the blowers running full power for an hour; and on the other hand, it keeps the ER at a comfortable and steady temperature while at anchor to preserve electrical equipment. Overall, the benefit is reduced noise as there is no need to have the blowers running when the yacht is static, and the temperature cooling in the engine room makes it a more comfortable environment to work in. A long-term benefit is that it extends the longevity of all the equipment and especially the electronic parts.
편안함
BENTLEY HOME 독점 가구 컬렉션

Bentley의 유명한 자동차 인테리어를 특징짓는 기술, 재료 및 마감재에서 영감을 받은 새로운 범위의 수제 가구로 운전하는 방식을 느껴보십시오. 컬트 브랜드 Bentley Home의 다양한 가구와 액세서리와 Tom Dixon과 Flos의 램프를 둘러보세요. 대리석, 직물, 가죽 및 액세서리는 개별 선택을 보장하기 위해 Bentley Home 디자이너와 함께 클라이언트가 맞춤화할 수 있습니다. 순수 실크, 대나무 및 최고급 뉴질랜드 버진 울로 만든 수제 카펫은 독점적인 수제 카펫 제조 및 부설 분야의 세계적인 리더인 OT(독일)에서 공급합니다.

메인 살롱 벽난로

진짜 벽난로는 중심이 되어 아늑한 느낌을 더해줍니다. 특히 저녁이 약간 쌀쌀할 수 있는 이른 시간이나 늦은 시간에 크루징할 때 더욱 그렇습니다. 그들은 완전히 안전하고 완전히 인증되었으며 에탄올과 같은 저열 생산 연료에 의존합니다.

Bower & Wilkins 고급 오디오

Dynamiq has partnered with iconic British sound maker Bowers & Wilkins to deliver pristine sound to its discerning customers. All luxury spaces and each guest cabin will be carefully analysed and studied by experts to ensure the ideal positioning of the speaker systems to have the best possible sound expertise on board.

2개의 고정 발코니가 있는 침실

A standout feature aboard the G350 are the two fixed balconies in the owner's stateroom, which do not require any servicing or crew member to operate. Nor does the floor become an unsightly wall as with fold-down balconies. A fixed balcony means you can wake up and enjoy your morning coffee, sunbath in full privacy or read a newspaper close to the sea without delay.

사우나가 있는 비치 클럽

For maximum relaxation the Dynamiq G350 offers a beach club with hammam or sauna, as well as space for gym equipment. Beach clubs come into their own when anchored in a quiet bay when they become an extension of the stern platform, so guests can take a steam bath or sauna straight after a refreshing plunge.

XIR 유리

The G350 features next-generation laminated XIR glass that allows maximum light transmission, while keeping solar heat gain at bay. Harmful UV rays are almost completely blocked, and heat transmission reduced by 60%. The result is an interior that offers the wide panoramas of large windows without the penalty of heat build-up. This means significantly reduced air-conditioning loads and therefore lower running costs. The glass manufacturer is Isoclima, an Italian high-tech company that also supplies glass for luxury automobiles such as Bentley, McLaren, Mercedes and BMW.
주요 치수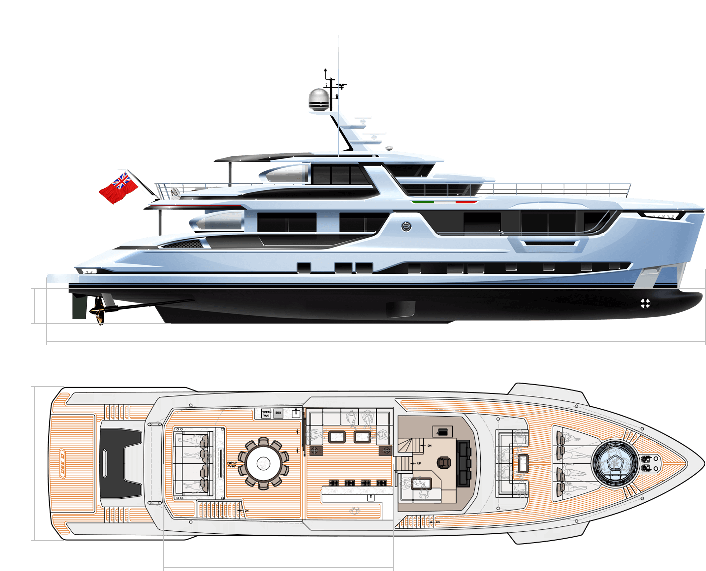 전체길이 35 m / 115'
드래프트 2.1 m / 6'11"
썬 데크 길이 12.3 m / 40'4''
썬 데크 면적 77 m2 / 829 sq ft
전체폭길이 8.5 m / 27'11"
내부 헤드룸(최대)
썬 데크

2.20 meters / 7'3''

메인 데크

2.20 meters / 7'3''

하층 갑판

2.10 meters / 6'11''
사양
전체길이

35 m / 115'

전체폭길이

8.5 m / 27'11"

드래프트

2.1 m / 6'11"

톤수

270 GT

재료

High tensile steel / Aluminium

선체유형

Round bilge, fast displacement

주요엔진

2x MAN V12-1650, 1,213 kW

발전기

2x 70 kW, Kohler

스태빌라이저

2x Stabilizer fins, Side Power
Hull Vane®

최대속도

16 knots

범위

3,500 nm @ 10 knots

연료

29,600 l / 7,820 US gallons

하수

8,000 l / 2,113 US gallons

상수

2,800 l / 740 US gallons

손님

10 in 5 cabins

승무원

6 in 3 cabins

구조선

Williams 505 (5.03 m / 16' 6'')

등급

RINA commercial, REG

표기법

RINA Comfort Class,
RINA Green Star (option)




외부디자인

Dobroserdov Design

내부디자인

Giuseppina Arena / Dynamiq

건조시간

24 months